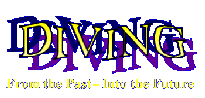 Part One - Highlights.
Conceived by Nick Baker (founder secretary of the Historical Diving Society) from an idea by Michael Cocks, 'DIVING From the Past - Into the Future` dips into the colourful and multifaceted world of diving exploration beneath the waters of the world. The search for lost gold, recovering the elixir of life or repairing a damaged wellhead - each has demanded of mankind ingenuity, skilful engineering and a courageous spirit to take that first footstep, or finstroke forwards, through the previously unfathomed depths...
650 BC The Epic of Gilgamesh. The earliest surviving account of diving.

1690 Halley's Diving Bell.

1715 Lethbridge's Barrel.

1836 Deane discovers the Mary Rose

1906 The saving of Winchester Cathedral by William Walker.

1917 Damant's recovery of £5m in Gold Bars from HMS Laurentic
See some extremely rare archive film from John Williamson's underwater filming for '20,000 Leagues Under the Sea` (1916), Commandant Le Prieur's underwater exploration (1935) & excerpts from Hans Hass' first two films (1939 & 1942).
---
© The Secret Bottletop Production Company Limited 8 January, 2001
Web Pages by Stone Cottage Industries